We provide the following services to Members only:
Members' Area on this Website
In the Members' Area Members can access special discounts on courses and books as well as keeping up to date with the latest drama news, and accessing current and past issues of Dialogue.
Dialogue Newsletter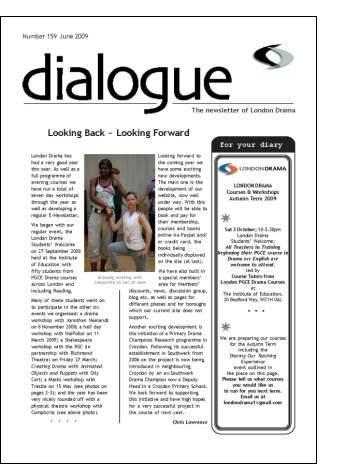 Our regular Newsletter, Dialogue, is published six times a year at the beginning of terms and at half terms with news, drama information, theatre listings etc. In Dialogue you can write reviews, articles and profile your practice sharing with all other members in the London Drama community.
London Drama E-News
Our electronic newsletter, London Drama E-News links members day by day and provides the London Drama community with up to date information about theatre/drama events, discounts on theatre tickets, job opportunities and more.
Drama Magazine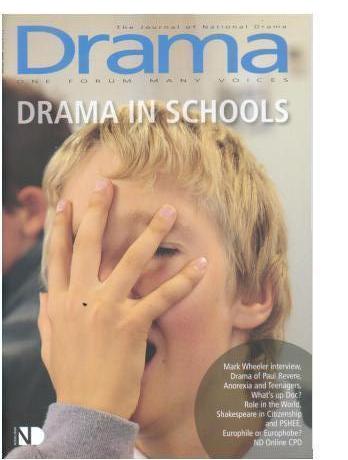 Members receive copies of National Drama's publication Drama free with their membership. Drama contains articles, practical ideas for drama, opinions and debate, and book reviews to stimulate and resource your drama teaching. Drama is also an opportunity for you to write about and share your own practice not only with a wider national drama community but also internationally.
We provide the following services to both Members and Non Members:
Course/Workshop Programme
We run courses and workshops by leading edge practitioners in order to inspire and resource you. Our programme is arranged not just once a year but all the year round and consists of of day workshops and shorter evening courses to suit all needs - all at discounted rates to our members. More here.
Book Service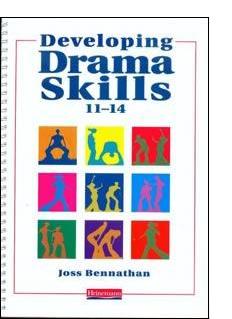 We have a comprehensive stock of standard and new books on drama and theatre and play texts for young people which can be viewed and ordered here. Our books are sold at publishers' cover prices but Members get a 5% discount on all book purchases. Log on to the Members' Area to gain access to the discounted books.
Theatre Companies
We highly recommend all theatre companies who are members of London Drama. We know them and we know their work and if you are looking for high quality work we can recommend all our Theatre Members to you.
Post Garduate Teacher Training
We are actively involved in post graduate teacher training with the last remaining Drama courses in London at the Institute of Education and Goldsmiths College - as well as Reading University - and take an active interest in helping those new to the profession get started in their new careers.
Network Links
London Drama thrives on making connections. We have many network links across the capital across the UK and internationally. Go to Resources to learn more.
Support, Advice and Information
In addition to all this, because we have a regularly manned office you can get support, relevant advice and information when you need it from our staff and management committee who are all experienced members. Contact Us.
---