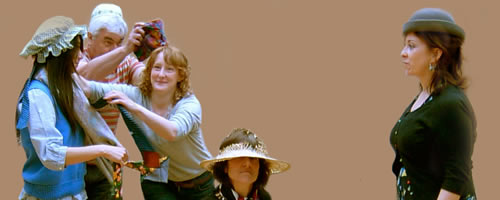 We run courses by leading edge practitioners in order to inspire and resource you. Our programme is arranged not just once a year but all the year round as we feel that support needs to be ongoing and consistent.
To meet all needs we arrange a programme of Day Workshops and a programme of shorter Evening Courses throughout the year.
We run Day Courses led by Key National Practitioners using Process Drama to develop and explore key social learning topics
- in their own right as creative learning
- relevant to Citizenship/PHSE
We also run Day Courses led by Ensemble and Physical Theatre Companies like Shared Experience, Complicite, Improbable, Oily Cart etc., to inspire and stimulate you at your level. You can then adapt the approach to your students - or a theatre group you work with.
Our evening class courses cover curriculum development areas and updates both primary and secondary. These courses are run by members with current, direct classroom experience, providing our membership and drama teachers generally with the benefit of their experience and wisdom.
All our courses are at discounted rates to our Members. The programmes we run reflect the full range of drama activity:
Primary Secondary SEN EAL Post 16.
We are always open to suggestions for new courses so that we can meet your drama/theatre needs more precisely. Please Contact Us with your suggestions for a course or workshop or to offer to run an Evening Course for us.
For a free downloadable PDF file of one of our recent workshops click this link to Trestle Mask photos.
---